Internet e siti web
In Grand Theft Auto: The Lost and Damned potrete accedere alla rete internet (del gioco) attraverso un normale computer nei vari Internet Point sparsi per tutta Liberty City, segnati sulla minimappa con un'incona a forma di chiocciolina.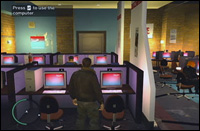 Il più importante è famoso è il Tw@ (il cui nome è anche un gioco di parole a sfondo erotico, tipico dell'umorismo Rockstar: Tw@, la cui pronuncia è twat, significa infatti vagina).
Lista siti di Lost and Damned
Oltre alla lista dei siti presenti in GTA IV, sono stati aggiunti nuovi siti web. Di seguito la lista in ordine alfabetico.
www.angelsofdeathonline.com
www.banditmagazine.net
www.congressmanthomasstubbs.com
www.ecoelitevacations.com
www.genderroledoll.com
www.globeoil.net
www.highmenspacetours.com
www.killdebtdead.com
www.lostmc.com
www.managingmillennials.org
www.morningwoodspa.com
www.trainyourselftolerant.com
www.uptownriders.net