Soundtrack Limited Edition e Vinyl Box Set di GTA V a dicembre
News inserita da Fabio206 -

Per celebrare l'uscita delle nuove versioni di GTA V per PlayStation 4, Xbox One e PC, Rockstar Games ha annunciato pochi minuti fa una limited edition della soundtrack ufficiale, su CD e vinile.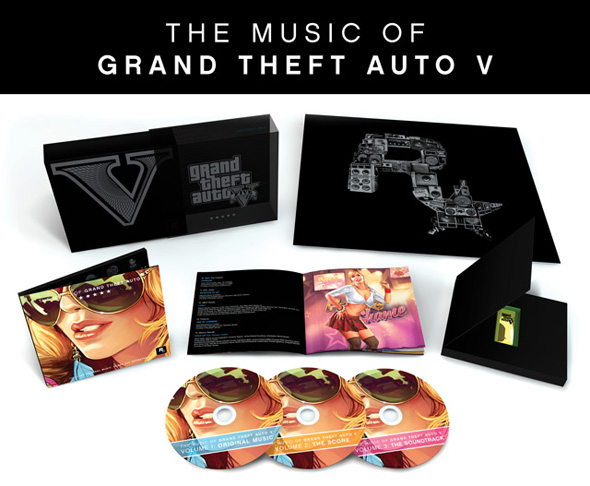 La collezione in edizione limitata, intitolata "The Music of Grand Theft Auto V", inluderà 59 tracce con musica degli artisti A$AP Rocky, Tyler, The Creator, Twin Shadow, Wavves, Flying Lotus, Yeasayer e altri.
In aggiunta, queste edizioni limitate conterranno anche musiche originali composte da Tangerine Dream, Woody Jackson, The Alchemist e Oh No, mixate da DJ Shadow, assieme al resto delle tracce presenti in Grand Theft Auto V.
Le edizioni limitate in questione, prodotte in sole 5.000 unità, saranno disponibili dal 9 dicembre nei più importanti rivenditori fisici e online a partire dal 9 dicembre.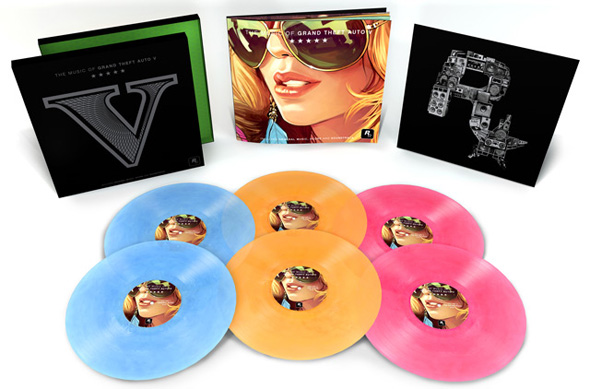 La collezione in vinile conterrà sei dischi in vinile, un libretto a colori e un esclusivo poster con litografia in un classico box-set. La collezione CD includerà tre dischi e una pennetta USB a forma di lingotto d'oro con il logo ufficiale Grand Theft Auto V, oltre ad una serie di artwork e poster.
Infine, svariati DJ presenti nella colonna sonora di GTA V stanno collaborando con Rockstar Games per inserire nuovi contenuti nelle rispettive stazioni radio del gioco. Tra gli artisti in questione sono inclusi Big Boy, Nathan e Stephen da WAVVES, Kenny Loggins, Lee "Scratch" Perry, Twin Shadow, Keith Morris e Cara Delevingne, così come le stazioni talk di Dr. Ray De Angelo Harris e Duane Earl.